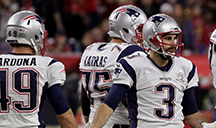 The NFL (National Football League) is the highest professional American football league in the world and one of the four professional sports leagues in the US. It was founded in 1920 as "American Professional Football Association" (APFA) and changed its name to NFL in 1922. 32 teams participate in an NFL season; the league is divided into two conferences, the "American Football Conference" (AFC) and the "National Football Conference" (NFC).
The 16 teams of a conference will be drawn into four divisions for the NFL season. The pre-season takes five weeks with its so-called exhibition games. All teams play four games but only as friendlies, wins and defeats don't count. The main season begins in September, takes seventeen weeks and every NFL team plays 16 games. The playoffs follow, in which only the division winner and two "wild card" teams from each conference participate. This goes until the best teams of the AFC can face off the champions of the NFC in the legendary Super Bowl final. However, there are other stations until the final, the Wild Card Weekend, the Divisional Playoffs and the Conference Championships.
New England Patriots defeated Los Angeles Rams in Super Bowl LIII and won the famous Vince Lombardi Trophy. The Super Bowl victories of the Patriots dates back to the most successful coach-quarterback-duo in all NFL history: this has been the sixth triumph for head coach Bill Belichick and quarterback superstar Tom Brady. As defending champions, the Patriots are this year's favorite too! Who can stop them? Place bets on your favorites at Interwetten!